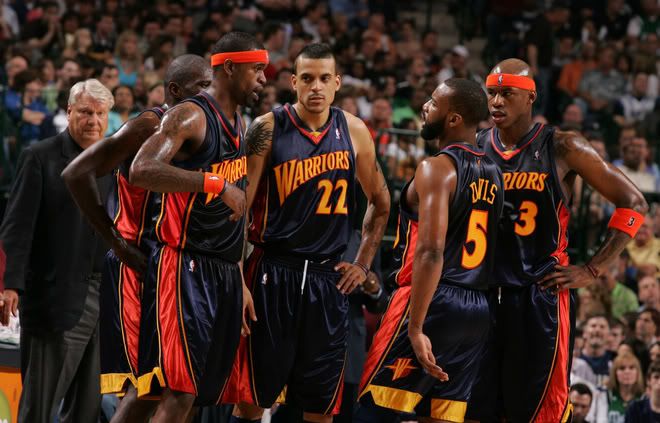 Our good bud Dwyermaker is posting on the Warriors defeat tonight:
Yes, the Warriors lost on Wednesday night, albeit not in a complete landslide as many had expected, with the Warriors leading even into the 3rd quarter. Unfortunately, BDizzle and Stephen Jackson got tossed, but the Warriors still kept it a game into the 4th quarter. Have to say that Reggie Miller and the rest of the announcers created unnecessary drama over Jackson's slow exit suggesting that it should result in a suspension. Please... if Jackson gets anything more than a heightened fine it is a travesty and more of a reflection on Jackson's reputation and the goal of the modern NBA to completely sedate their players.
Is there any question that this was a boring regular season short of a couple exciting (Warriors') games to make the playoffs at the end? The league's crackdown on laughing and clapping at referees, suspensions for technical fouls, and calling ticky-tack flagrant fouls has turned players into emotionless drones and the quality and excitement of play has been reflected, especially during the regular season. Fortunately, the competition in the playoffs picks up and the NBA finally becomes watchable. The NBA front office and referees have to understand that emotions run high both in victory and defeat and this is something to be celebrated, not shunned. Just because David Stern may need his daily dose of Xanax to get through the day does not mean he needs to kill the emotions of the playoffs for everyone else.
In summary, Free Mumia... I mean Stephen Jackson... and the Warriors will rebound in game 3, feed off the emotion at the Oakland Coliseum Arena (to hell with Oracle and all companies that pay to have arenas named after them... doesn't that give us all less of a reason to use their products???) and the Warriors will win by 10 in Game 3.
-dwyermaker
Special editor's note: Anyone else think Reggie Miller was beyond dreadful for this game? His worst line had to be "when the Warriors are in them, they give them trouble." I'd have some trouble too if the Warriors were in me. I hope Awful Announcing captured some of Miller's incredible work.