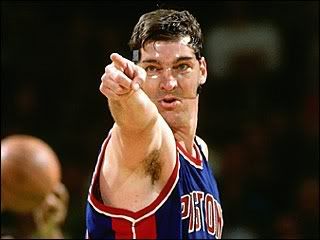 Watching the Spurs play, particularly Bowen with his dirty tactics and Ginobli with his constant soccer-esque flopping and dramatics, made me think about potential solutions to this problem. The complaints to the NBA league office clearly aren't doing much (even though we just learned Bowen
is being investigated by the NBA for kneeing Nash
, we're not expecting much) and the refs don't seem to be doing anything about it, even Amare's justified complaints after getting deliberately kicked in the achilles heal have fallen on deaf ears... and he's a 1st Team All-NBA player recovering from serious career-threatening surgery. If Amare can't get any love from the league office, what are the rest of players expected to do to protect their futures?
The funny thing is that there is a prior precedent for how to handle this situation. Does anyone ever wonder why Charles Oakley had a decade plus run in the NBA? Ever hear of Rick Mahorn or Bill Laimbeer? What happened to these guys? My theory is that teams forgot that Championship teams generally needed one of these guys for a stress-free play-off run when the Lakers took 3 in a row with Rick Fox and Medvedenko in the position that an enforcer would normally fill. People did not realize that Shaq and his nasty streak actually played the dual role of best player on the team and the ultimate enforcer if anyone started cheap-shotting his teammates. The Shaq of five years ago would have broken the 2007 Bowen in two by this point if he were playing for the Suns. The trick to a good enforcer is someone who has just enough self-control that you know he isn't going to kill anyone (aka NOT Ron Artest) but is just crazy enough that opponents who don't know him well think he might go insane... and he has to be the most expendable player on the floor.
Why the Suns decided to go after Jalen Rose when they could have made an early season push for Danny Fortson for the playoffs is beyond me. If Bowen intentionally knees your best player (Nash) in the groin the game after almost injuring your second best player on a cheap shot to his surgically reconstructed leg, you know what you do? You send Fortson and his Princess Leia hair in there, have him guard their best player (Duncan) for a few trips down the court, show Duncan some of the same treatment and run Bowen through a screen on Fortson's side and have Forton take his head off. Problem solved and the funny thing is this not rocket science. I've played pick-up games where guys didn't even know each other or communicate this and instinct just kicks in and the cheap-shotting players always get theirs. The problem is that D'Antoni is just too nice a guy, apparently, whereas I'm pretty sure Popovich would tell Bowen to club a baby seal on the court if it got his team an advantage.
If I were an NBA GM I'd constantly be thinking about that 12th man and who would be the best enforcer to pick up. Like for the Warriors, why have Jasikevicius and Foyle sitting there not playing any time at all when you probably could have picked up Pacman Jones for a season at the league minimum? Who cares if football is his sport and if he sucks at basketball? Believe me, if Bowen knew that Pacman Jones had Nash's and Amare's backs, would he have ever pulled that this series? Hell no.
--dwyermaker