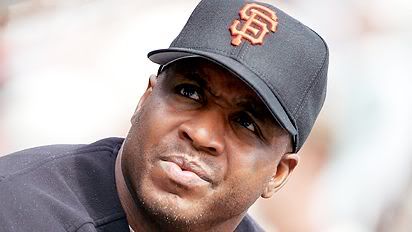 There was a fascinating article out on ESPN and discussed frequently in the past couple days about a survey that found a significant disparity between caucasians and African-Americans in how they feel about Bonds breaking Hank Aaron's home run record (also fascinating is that while Bonds apparently has the support of 37% of the nation, according to the most recent polls, President Bush only has the support of 28%... now I don't care what your political leanings are, that has to put a smile on your face). While I hate how everything gets turned into a race issue these days, it is still a very important issue in our country and deserving of discussion...
So, my great conclusion on the Barry Bonds debate comes down to one word: "Karma." Very similar to how the OJ Simpson case was about Karma. When I first read the survey reflecting the different opinions on the Bonds debate, the only thing I could think to compare it to in terms of a major issue, not necessarily political, that similarly divided America racially was the OJ Simpson case. If you think a little deeper, the Karma involved in both situations is similar as well. Where OJ was clearly Karma for the American legal system's continual failures to adequately and equally protect African-Americans over the years, Barry Bonds breaking the home-run record is Karma for the years of racial injustice in major league baseball. Just as white America could not bare the thought of letting OJ walk after almost definitely killing two people, white America can not bare the thought of Barry Bonds almost definitely cheating his way to the top of "America's Pastime's" most coveted record.
Now, I know you're probably saying, wait a second... Hank Aaron is African-American and he owns the home run record so it can't be a racial issue. This is a valid point, but the thing is that Aaron broke the record with class and dignity and Aaron is a feelgood story for the country and all Americans. We should not be judged in how we treat those who do great deeds with honor and dignity, but in how we treat those that do wrong. Just as our criminal justice system has consistently targeted African-American offenders at every level, so too are we quick to jump on African-American athletes at the first sign of character weaknesses. Ray Lewis was clearly guilty before being proven innocent, Pacman Jones too.
Imagine if Roger Clemens were African-American, for instance. Where are the front-page stories on the steroid allegations about him? On his freakish run into his mid-40's, huge physique, and fits of rage (see 100 mph fastballs and broken baseball bats thrown at Mike Piazza)? Clemens is a poster-child for Steroids Era baseball, he is like Bonds, by all accounts, a huge a-hole, and there is nothing about him in the press except how he may be the greatest pitcher of all time and everyone wants to sign him right now, etc. Can't you see how African-Americans could be concerned by this? I know I can...
Just as the OJ Simpson case was a wake-up call for America demonstrating that we are not as racially united as we like to believe we are, this Barry Bonds debate is a similar reflection of the same concern. While we all love to join hands around a great athlete and a great person such as Hank Aaron has been over the years, a lot of times we have to deal with reprehensible individuals of all races. It is our racially-neutral treatment of these individuals that show how far we have come as a society. Once we can accept that it isn't always going to be the Nelson Mandelas that triumph over injustice in the courtroom and sometimes it is the OJ Simpsons of the world that do so... and once we can accept that it isn't always going to be the Jackie Robinsons and Hank Aarons that break barriers and records on the baseball field we will finally prove to ourselves that we have overome substantial racial problems in this country. Until then, fortunately we have OJ and Barry to show that as much as we like to believe we have obtained racial harmony in this country, we still have a long way to go... and at some level we definitely deserve this. For every African-American who has been abused by the American legal system and every Satchell Paige and Josh Gibson who never got to play in the major leagues because of racial prejudice, there is an OJ and and a Barry to remind us that Karma always comes around...
--dwyermaker