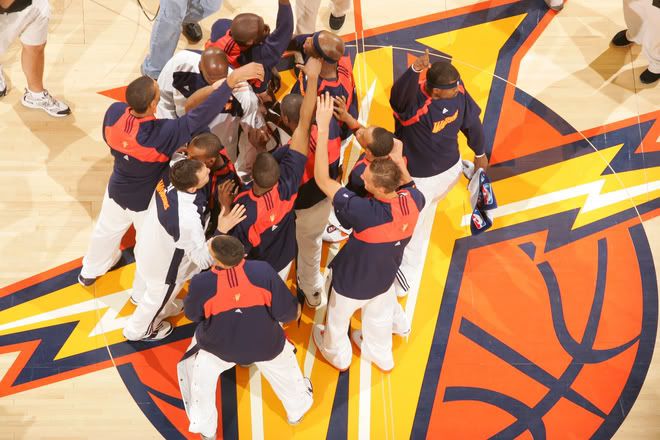 This isn't quite as ideal a matchup for the Warriors
as the Mavs were
. The Rockets would have been a better opponent for the Warriors to face since Baron Davis would have been able to totally dominate Rafer Alston and Yao Ming could have been held in check to a degree by the Warriors team speed. The only person to do significant damage would have been T-Mac, since Battier is about the only other guy on the Rockets aside from T-Mac and Yao who can score at all with any regularity.
But the Rockets aren't facing the Warriors, it'll be the Jazz. So let's get down to showing how The City will beat the Jazz.
1. Continuing confidence
- The Warriors split with the Jazz during the season 2-2, so there's no question the Warriors know they can beat the Jazz. More importantly, the Warriors KILLED the Jazz during that epic end of the season playoff push. And after having just beaten a 67-win team that was picked by almost everyone to win the NBA Championship, the Warriors confidence is at its peak, and going up against the Jazz won't do anything to change that.
2. The plan is there is no plan
- Jerry Sloan runs a tight ship in Utah, much like Avery Johnson does in Dallas. But that can actually backfire when playing the Warriors. That was totally evident during the Warriors/Mavs series. Most of the time, the Mavs seemed to have no clue how to defend or play the Warriors because there was no real rationale to the Warriors play (other than that BDizzle leads it). It was almost like blacktop ball - run and gun. Although there's some concern that Utah can disrupt this style of play, since they played Phoenix very tough this year, there's no real reason why this should extend to the Warriors as well. Phoenix plays a strangely controlled fast break game that has its weak points, while the Warriors play a hyperkinetic version of fastbreak/blacktop basketball that defies any real NBA logic. In essence, they're incredibly difficult to prepare for becuase their style is impossible to define. Going against a coach who game plans down to the smallest detail, when there really is no detail to the Warriors gameplan, could be an advantage for the Warriors.
3. Guard play
- Obviously we all know that Baron Davis remains the key for the Warriors. An awful lot will depend on his matchup with Deron Williams. Williams is one of the bulkier guards in the league (like Davis) and could give Davis some problems. However, Davis is more experienced and wiser. Even better for the Warriors, Williams' primary backcourt mate is Derek Fisher, who will get killed by J-Rich and Stephen Jackson. The Warriors also have an advantage in that Monta Ellis, if he gets his game going, could be absolutely huge for the Warriors in giving Davis some much needed rest and running Williams and Fisher into the ground. But most important, it will be up to Jackson and J-Rich to abuse Fisher or Williams when matched up against them.
4. Boozer v. Biedrins
- This will be the most critical matchup outside of Williams against Davis. Boozer owned Yao Ming in the Houston/Utah series. But that won't happen here. Biedrins is much quicker and more athletic than Yao Ming. But it's critical that Biedrins not get into foul trouble against Boozer. If he does get in foul trouble though, Al Harrington should be able to play decent minutes against Boozer as well.
5. Frontcourt
- The Jazz do have a very good frontcourt. However, as just discussed, Boozer can be contained to a degree. Okur is a bit different, since he can get outside and drain 3's. The way the Warriors can get Okur out of his game is to run, run, run. Okur isn't the best conditioned athlete, and with the way the Warriors run, they can neutralize him to some degree. Also, Mickael Pietrus can come in for stretches and play some devastating defense on Okur. The Warriors should also look to attack Okur on the offensive end, seeing as he is not a great defender.
6. Adaptability
- The Jazz prefer to play a slower game. But if we learned anything about the Dallas series, the Warriors can beat you pretty much any kind of way. Avery Johnson tried pretty much everything to slow the Warriors down or play speedball with them and it didn't work. There's no reason to think that will change in this series. Although the Warriors prefer not to play a slowdown game, they can do it and win. On the flip side...
7. Speed kills
- The Utah Jazz are not a team built to run. And their key player, Boozer, is not a guy who will kill you in the transition game, either offensively or defensively. The Warriors should do what they did against the Mavs: use their athleticism and run, run, run when they can.
8. Shutting down the AK-47 factor
- Although AK has sucked lately offensively (which is a humungous advantage for the Warriors) he still plays killer D. He'll likely be assigned to either J-Rich or S-Jax. This means though that either J-Rich or S-Jax will have Derek Fisher on them. As I've said, whoever Fisher guards should light Fisher up. Sloan might also counter with both AK and Harpring (one of the dirtiest players in the league). That's ok. The Warriors should continue to attack Harpring since he is not the fleetest of foot. Again, Ellis could be huge for the Warriors here, since his speed could flumox both AK and Harpring.
9. Health
- The Jazz just came off a gut-wrenching 7 game series. They get only Sunday off before playing on Monday. The Warriors, meanwhile, have been kicking back since the end of their game on Thursday night, a full two extra days of rest. Of course a lot will depend on Baron's hammy, but it wasn't a severe strain. If anything, the fact that Utah played a seven game series with minimal turnaround time is a huge advantage for the Warriors. The City will have an excellent chance to steal one in Utah before going home due to the fatigue factor.
10. Home court magic -
The Warriors just don't lose at home. And that's because of the incredible crowd. The energy from the Dallas series won't change one bit. Warriors fans are the most ravenous in all of basketball, and they'll be bringing the thunder once again.
Prediction: Warriors in 6.
Also be sure to check out
Golden State of Mind
for constant Warriors updates.
-WCK